As a specialist for special projects, extreme events has been partner for more than 15 years of the automotive and supplier industry as well as product testers for a wide range of outdoor products and brands. We have relevant references in the development and administration of difficult and most difficult expeditions as well as product tests under extreme conditions. Here you can find more information and references about extreme events:
Projects
We cordially invite you to follow our latest Extrem Events project:
The Rheinmetall MAN High Altitude Truck Expedition
Together with our
partners
and the extreme events team of 5 nations, we want to write history with two
Rheinmetall MAN
special trucks. During this expedition we want to improve our previous record of high altitude and we are currently implementing another special project: The erection of the two world's highest rescue huts on 6,150 meters and over 6,500 meters in cooperation with
Bauinnung München
.
In the following you find some of the most important facts to the project: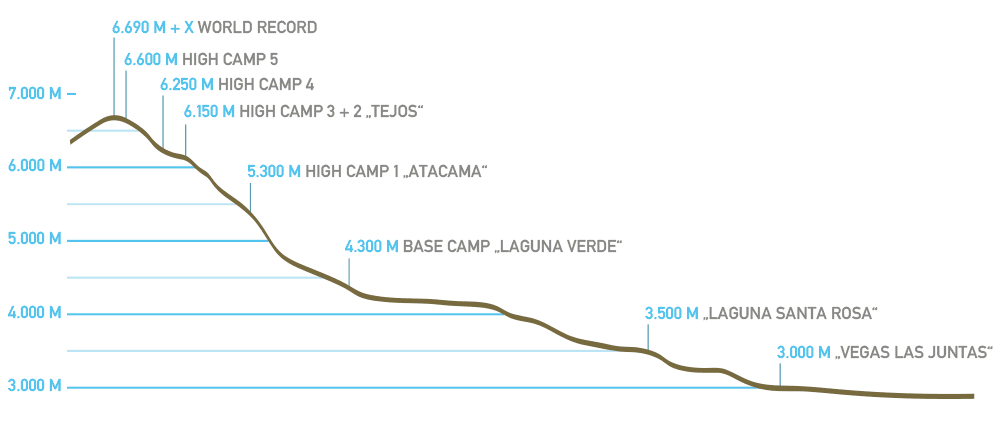 Expedition period:
01.11.- approx. 20.12.2017
Vehicles:
Rheinmetall MAN 40M 4x4 and Rheinmetall MAN HX 58 6x6
Tires:
Alliance
/
Bohnenkamp
A 390 - 650-55-26,5
Snow chain system:
Grizzly
/
K-Metall net secure chain and special chain system
Protective clothing, team outfit:
Mike Bosetti / Q-Jeans Expedition clothing
Vehicle modification:
Rheinmetall MAN Military Vehicle
,
MAN
,
Extrem Events
Team vor Ort:
14 persons
Teamintegration / cooperation:
two formerly hardly injured  veterans – one from the Australian and one from the British Army (
overcome your handicap and show others what is possible
)
Project and expedition management:
Matthias Jeschke – Extrem Events, 65549 Limburg, Germany
Place of action:
Atacama Wüste / im Norden von Chile / Vulkan Ojos del Salado – 6.893 m
Temperatures:
-25°C to + 35°C
Subsoil:
lava rock, volcano sand, snow, ice
Phase of acclimatization:
+/- 15-20 days